Welcome
The Gay and Lesbian Immigration Task Force (SA) Inc., or GLITF SA is a voluntary, self-help organisation in South Australia with the primary objective to offer support and, through our pro bono Registered Migration Agents, migration advice to non-resident same-sex partners of an individual who is an Australian Citizen, an Australian Permanent Resident, or an Eligible New Zealand citizen
GLITF SA is affiliated with similar organisations bearing the same name throughout Australia, but all function independently of each other. We operate entirely on membership fees, donations and fund-raising
GLITF SA meets once a month so that members, both past and present, can meet in a sociable and relaxed atmosphere. The meeting is open to members of the public who seek general information about immigration guidelines. It provides a great opportunity to hear about the experiences of other same-sex couples too. Read more.
Christmas

On behalf of the Management Committee of GLITF I would like to wish you all a Happy Festive Season and a happy and safe 2015. We look forward to engaging with many of you during the coming year.
President
Please note - there are no forums or meetings planned over Christmas and early in the New Year. If you need to contact us, please email at info@sa.glitf.org.au
Picnic in the Park
Recently we participated in the annual Feast Festival in Adelaide. We also hosted a succesful booth at the Picnic in the Park. Thanks to all the volunteers who helped at the stall.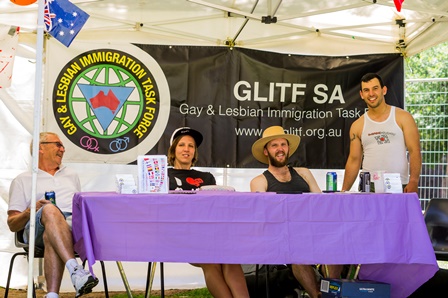 Australia Day BBQ
We are having our annual Australia day BBQ on 26th January 2015 in Adelaide. We will email out the venue and times in early January or check the website for updates.
Secretary
GLITF SA Inc.