Welcome
The Gay and Lesbian Immigration Task Force (SA) Inc., or GLITF SA is a voluntary, self-help organisation in South Australia with the primary objective to offer support and, through our pro bono Registered Migration Agents, migration advice to non-resident same-sex partners of an individual who is an Australian Citizen, an Australian Permanent Resident, or an Eligible New Zealand citizen
GLITF SA is affiliated with similar organisations bearing the same name throughout Australia, but all function independently of each other. We operate entirely on membership fees, donations and fund-raising
GLITF SA conducts regular forums and social functions. Forum details are available on the webiste as well as details of upcoming social functions.
Billards Night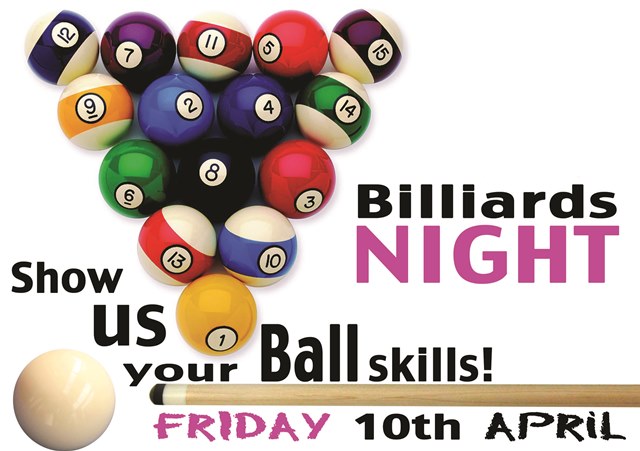 Join us for a a night of billards/pool.
When: Friday 10 April
Time: 6:30 onwards
Where: Ballroom Bar and Pool Hall
1st Floor, 140-144 The Parade Norwood (above Café Bravo)
We have reserved 3 tables for 2 hours (7-9pm) with the option to continue on.
Please RSVP to social@sa.glitf.org.au by April 04
For those who want to have a meal, meet in at Café Bravo at 6pm. Otherwise, food can be delivered to the tables at the Ballroom.
2015 Forums
The first of our Forums for 2015 is on Wednesday April 15th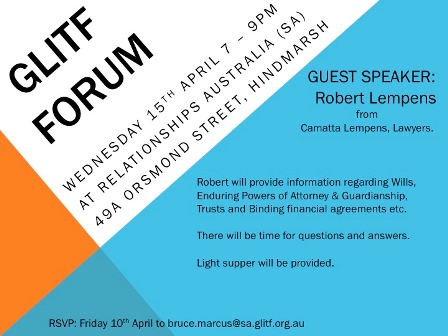 Other forums organised for 2015 are:
Wednesday 13th May – Migration Solutions
Wednesday 5th August – Migration Solutions
Wednesday 9th September – Camatta Lempens – Lawyers
Glitf is grateful to Robert Lempens (Camatta Lempens) and Vanessa De Pretis (Migration Solutions) for making their time available to GLITF Members to provide up-to-date information on legal and immigration matters. This year they have agreed to do 2 presentations each.
These sessions are not only for members who are about to start or who have started the migration process but also for those who wish to keep informed or who have questions regarding current legislation in both these areas.
Both Robert and Vanessa have indicated that they would like to make the sessions as informative and relevant as possible to attendees. To that end, it would be helpful if you could forward suggestions to GLITF(as soon as possible) regarding topics you would like covered. This will enable them to target their presentations to areas of particular interest. Please email Bruce Marcus at bruce.marcus@sa.glitf.org.au
2015 Support Volunteer Training
Each year, as new members join, they need to be inducted/welcomed into the association and informed in greater detail as to what services GLITF has to offer – including assistance in working through the Migration process.
If you are already a Support Volunteer or wish to become one, please let us know if you want to join the 2015 team, as soon as possible, by emailing Bruce Marcus at bruce.marcus@sa.glitf.org.au who will then organise a training session to provide you with the current information.
Secretary
GLITF SA Inc.