Welcome
The Gay and Lesbian Immigration Task Force (SA) Inc., or GLITF SA is a voluntary, self-help organisation in South Australia with the primary objective to offer support and, through our pro bono Registered Migration Agents, migration advice to non-resident same-sex partners of an individual who is an Australian Citizen, an Australian Permanent Resident, or an Eligible New Zealand citizen
GLITF SA is affiliated with similar organisations bearing the same name throughout Australia, but all function independently of each other. We operate entirely on membership fees, donations and fund-raising
GLITF SA conducts regular forums and social functions. Forum details are available on the webiste as well as details of upcoming social functions.
Social Events
GLITF is ramping up the social events. Below is a list of upcoming events, check the website for more details closer to the time.

Oct 18 – Beach walk
Nov 7 – Banquet
Dec 6– Xmas Pub Lunch
Jan – Australia Day BBQ
Feb – Mini Golf
March - Movie and dinner
Please RSVP to social@sa.glitf.org.au
GLITF Annual Asian Banquet and Presentation Dinner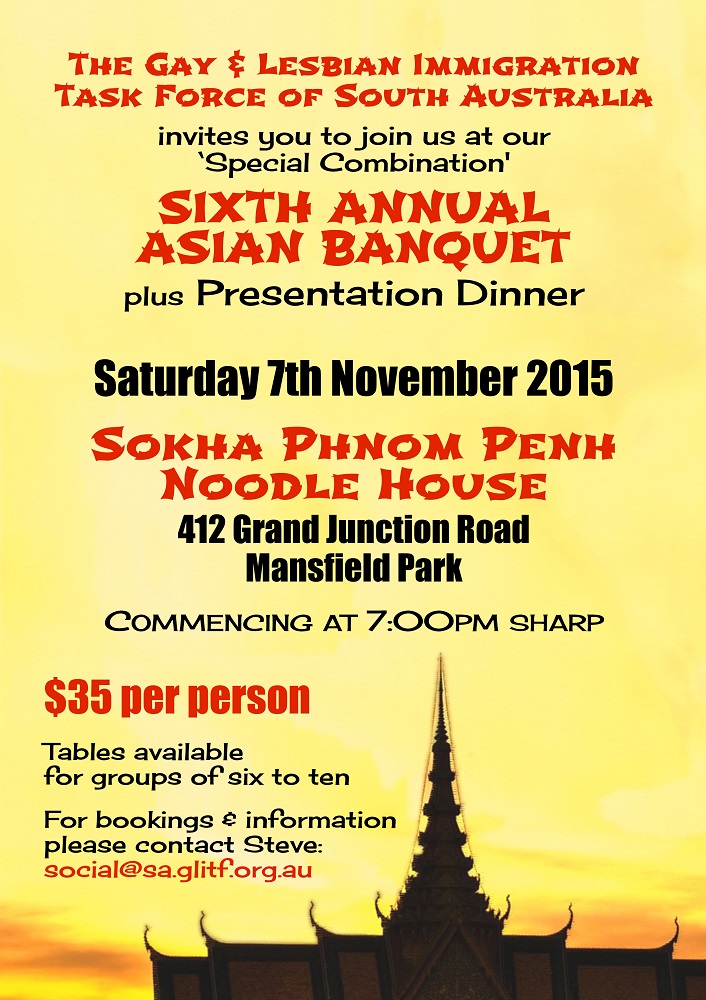 Please RSVP to social@sa.glitf.org.au
2015 AGM
GLITF SA's 22nd Annual General Meeting (AGM) is to be held at Relationship Australia SA, 49a Orsmond Street Hindmarsh (Entrance at Rear and Parking at side & rear) on Wednesday 30th September 2015 commencing with refreshments at 6.30pm.

The committee is proposing amendments to the constitution of GLITF. A special meeting to discuss these changes has been called for before the meeting – this will be an opportunity to discuss the proposed changes. If you have any concerns please contact the committee prior to the AGM. This discussion will commence at 7pm, with the main AGM to follow after discussion are complete. Refreshments and drinks will be served after the AGM is concluded, and members are welcome to stay for a drink.
Please RSVP to secretary@sa.glitf.org.au
2015 Support Volunteer Training
Each year, as new members join, they need to be inducted/welcomed into the association and informed in greater detail as to what services GLITF has to offer – including assistance in working through the Migration process.
If you are already a Support Volunteer or wish to become one, please let us know if you want to join the 2015 team, as soon as possible, by emailing Bruce Marcus at bruce.marcus@sa.glitf.org.au who will then organise a training session to provide you with the current information.
Secretary
GLITF SA Inc.